YC Whitening Papaya Extract, Lightens Skin, 100ml – Price in Pakistan 2023
YC Whitening Papaya Extract,
Lightens Skin, 100ml
100% Original
Confirm Stock Before Buying
Did you like this product? Add to favorites now and follow the product.
Description
Product Description:
Experience the power of papaya extracts for skin lightening with YC Whitening Papaya Extract Face Wash! This 100ml face wash is thoughtfully formulated to provide a gentle cleanse while promoting a brighter and lighter complexion.
Papaya Extract for Skin Lightening:
Infused with the goodness of papaya extract, this face wash offers practical skin-lightening benefits. Embrace the power of papaya as it works to lighten your skin tone and reveal a more radiant complexion.
Gentle Cleanse in 100ml:
With 100ml of product, this face wash ensures you have ample gentle care for your skin, leaving it feeling refreshed and revitalized after each use.
Brighten and Lighten Your Skin:
Step into a world of brighter and lighter skin with YC Whitening Papaya Extract Face Wash. Embrace the transformation as it promotes a more even skin tone and a natural glow.
Targeted for Pakistani Beauties:
Specifically tailored for Pakistani individuals, this face wash caters to those seeking the skin-lightening benefits of papaya extract for a radiant appearance.
Embrace Your True Radiance:
At YC, we believe in celebrating your true radiance. Let the YC Whitening Papaya Extract Face Wash enhance your skin's natural brightness and embrace your unique beauty.
Limited-Time Offer – Shop Now!
Ready to unveil a brighter and lighter you? Visit our website at www.shoppingpandaa.com and order YC Whitening Papaya Extract, Lightens Skin 100ml. Originally priced at 599, you can now enjoy a special discount, bringing it down to just 520! Take advantage of this fantastic offer.
Elevate your skincare routine with YC Whitening Papaya Extract Face Wash. Embrace the power of papaya for skin lightening and experience the natural glow for a more radiant, illuminated complexion. Order now and let your skin shine with newfound brightness!
Only logged in customers who have purchased this product may leave a review.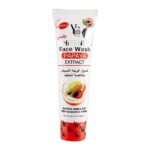 YC Whitening Papaya Extract, Lightens Skin, 100ml – Price in Pakistan 2023
Confirm Stock Before Buying