Dual USB Sata to USB Cable 2.5 or 3.5 Inch External SSD HDD Hard Drive Sata Cable Sata USB 3.0
Dual USB Sata to USB Cable 2.5 or 3.5 Inch External
SSD HDD Hard Drive Sata Cable Sata USB 3.0
100% ORIGINAL
Confirm Stock Before Buying
Did you like this product? Add to favorites now and follow the product.
Description
Buy Online Dual USB Sata to USB Cable 2.5 or 3.5 Inch External SSD HDD Hard Drive Sata Cable Sata USB 3.0 through Shopping Panda in Pakistan
Only logged in customers who have purchased this product may leave a review.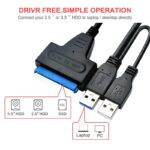 Dual USB Sata to USB Cable 2.5 or 3.5 Inch External SSD HDD Hard Drive Sata Cable Sata USB 3.0
Confirm Stock Before Buying