360 Deep Golf Head Brush Toilet Bowl Cleaner Brush, Brushes For Bathroom (random Colors)
360 Deep Cleaning
Effective Cleaning
Durable and Long-Lasting
Easy to Use:
Hygienic and Odor-Free
Confirm Stock Before Buying
Did you like this product? Add to favorites now and follow the product.
Description
Product Description:
360 Deep Cleaning: The 360 Deep Golf Head Brush Toilet Bowl Cleaner Brush is designed to provide thorough and deep cleaning for your toilet bowl. Its unique golf head shape and bristle arrangement ensure comprehensive coverage and efficient cleaning.
Effective Cleaning: With its sturdy bristles, this brush removes stains, residue, and build-up from the toilet bowl surface, leaving it clean and fresh.
Durable and Long-lasting: Made from high-quality materials, the brush is durable and built to withstand regular use. It is designed to provide long-lasting performance, making it a reliable choice for cleaning your bathroom.
Easy to Use: The ergonomic handle design provides a comfortable grip, allowing for easy manoeuvrability and control while cleaning. The brush's shape and size are optimized for efficient cleaning without splashing or dripping.
Hygienic and Odor-Free: The brush features bristles resistant to bacteria and odours, ensuring a hygienic cleaning experience. It helps to maintain a clean and odour-free environment in your bathroom.
Versatile and Multipurpose: While primarily designed for toilet bowl cleaning, this brush can also be used for cleaning other bathroom surfaces, such as sinks and showers, providing you with a versatile cleaning tool.
Random Colors: The brush comes in various colours, adding a vibrant touch to your bathroom decor.
Space-saving Design: The brush's compact size and sleek design make it easy to store, taking up minimal space in your bathroom.
Easy to Clean and Maintain: Rinse the brush under running water to remove any residue. It is recommended to clean and dry the brush thoroughly after each use to ensure optimal hygiene.
Practical and Essential: The 360 Deep Golf Head Brush Toilet Bowl Cleaner Brush is essential for maintaining cleanliness and hygiene in your bathroom. It is suitable for both residential and commercial use.
These features highlight the key qualities and benefits of the 360 Deep Golf Head Brush Toilet Bowl Cleaner Brush. Customize or expand on these points based on specific product details and target audience preferences.
Only logged in customers who have purchased this product may leave a review.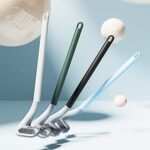 360 Deep Golf Head Brush Toilet Bowl Cleaner Brush, Brushes For Bathroom (random Colors)
Confirm Stock Before Buying